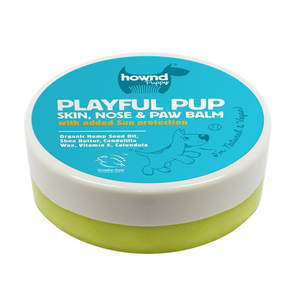 Hownd's Playful Pup Balm protects, soothes and moisturises. It is 100% vegan, unscented, fast-absorbing, natural and will be your puppy's perfect companion to combat the dangers of summer heat and winter chills. Botanical ingredients work together to effectively moisturise and heal soft pads, noses and skin, as well as offer sun protection. It contains UVA and UVB filters and is certified by Cruelty Free International.

The formula contains Organic Hemp Seed Oil - one of the world's richest known sources of Omega 3 and Omega 6 Essential Fatty Acids – vital for optimal health of the skin.

Candelilla Wax is a natural alternative to Beeswax. It is obtained sustainably from a wild plant shrub growing in the Chihuahuan Desert, a semi-arid area in north eastern Mexico. Beeswax is mostly obtained from commercial bee farms so Hownd opted for this vegan and natural alternative which looks and feels like beeswax, but is derived from an ethical and sustainable source. Calendula contains skin-healing and anti-inflammatory properties useful in soothing sores and wounds and treating inflamed and itchy skin. 


Size: 50g