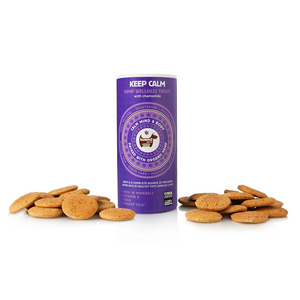 With added Camomile to help your best friend unwind. Camomile is also known to aid stress and anxiety. Ideal as a bedtime treat, or before a car journey or trip to the vet. Or simply just as a scrumptious treat. Keep Calm Hemp Wellness Treats are 100% natural, hypoallergenic, gluten free, grain free, human grade and vegetarian. All ingredients are sourced in the UK and produced in Devon.

Organic Hemp is a complete source of protein and super rich in healthy fats: Omegas 3, 6 & 9 which are vital for optimal health of the skin. Hemp is super rich in minerals, and renowned for providing a myriad of natural health benefits.
Hemp Wellness Treats Range Feeding Guide: 
Hemp Wellness Treats are delicious and shaped liked mini cookies. Intended as a complementary pet food for dogs. Serve as a treat or reward. Suitable for puppies from 8 weeks. Feed 1-5 treats per day depending on your dog's size. Always ensure your dog has access to fresh clean water. Store in a cool, dry place.

Size: 130g