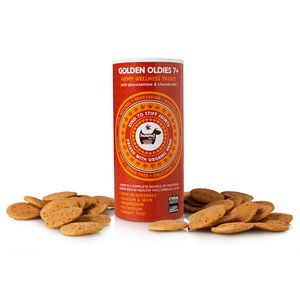 With added Chondroitin and Glucosamine. If your dog is starting to show signs of ageing, a few Golden Oldies Hemp Wellness treats a day may help to ease and support stiff joints. Chondroitin is a naturally occurring component of cartilage that helps to keep your dog's joints cushioned when they move, while Glucosamine helps repair the cartilage. Golden Oldies Hemp Wellness Treats are 100% natural, hypoallergenic, gluten free, grain free, human grade and vegetarian. All ingredients are sourced in the UK and produced in Devon.
Hemp Wellness Treat Range Feeding Guide:
Hemp Wellness Treats are delicious and shaped liked mini cookies. Intended as a complementary pet food for dogs. Serve as a treat or reward. Suitable for puppies from 8 weeks. Feed 1-5 treats per day depending on your dog's size. Always ensure your dog has access to fresh clean water. Store in a cool, dry place.
Size: 130g