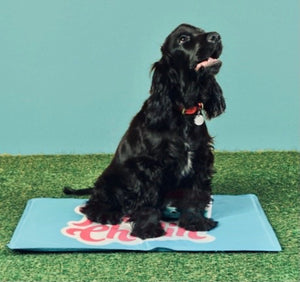 Easy to use, the Pet Brands Slogan Cooling Mat is a safe way to help combat overheating during hot days and after long walks.
As dogs can't sweat, they pant to control their temperature, the hotter they get the harder they have to work to cool themselves down so sometimes they need extra help from us.  Filled with a non-toxic cooling gel our mats have a durable outer. Both sizes are useable and is easily folded for storage.
To use simply place mat on surface you would like your pet to lie on, mat will then stay cool for 2-4 hours at a time. After use let your mat rest for between 30-60minutes in a cool place, alternatively if you place mat in refrigerator for 15-30mins this will quickly recharge the cooling gel inside.
Available in 3 sizes to best suit your pet:
Small - 40 x 50cm
Medium - 50 x 65cm
Large - 60 x 90cm