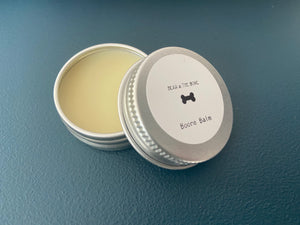 Bear & The Bone's Paw, Ear and Nose balm does not contain any essential oils or fragrances making it suitable to use on noses as well as paws and ears.  This formulation is perfect as an all-year-round balm.
It contains:
Shea Butter, which soothes, softens and hydrates skin;
Tamunu oil which conditions the skin and has fantastic healing properties, it is rich in lipids, calophyllic fatty acid and antioxidants;
Coconut Oil which hydrates the skin and prevents flaking; and
Sweet almond oil which has anti inflammatory properties and offers light sun protection.
Size: