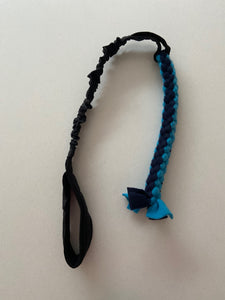 This chaser/bungee lure tug rope is ideal for dogs that need a little more enticing to play. It is ideal for outdoor or indoor training to avoid bending down low continuously and as well as for encouraging interaction with your dog(s) in an outdoor environment or to get their attention.
With a bungee cord rope it stretches to prevent jarring and has a fleece lined handle to prevent any kind of rope burn.
The ropes are made from braided or plaited anti pill fleece (known for it's use in human clothing) so is super soft and doesn't fray making it safe for dogs and wont harm their noses or gums (like cotton thread would).  Choose from two colour combinations customised for The Country Canine Company; Navy & Milkshake Pink or Navy and Turquoise.


They are machine safe; just pop the in a pillow case and the wash on a delicate cold cycle and leave to air dry.
Please note no toys are indestructible but these are safe and suitable for your pet if they are trained to use it. For all dogs (destructive ones in particular) please ensure they are always supervised. These Lure Tug ropes are designed more as a training aid than a for strong tug of war games.

Size:

One Size. Full length Approx. 1m